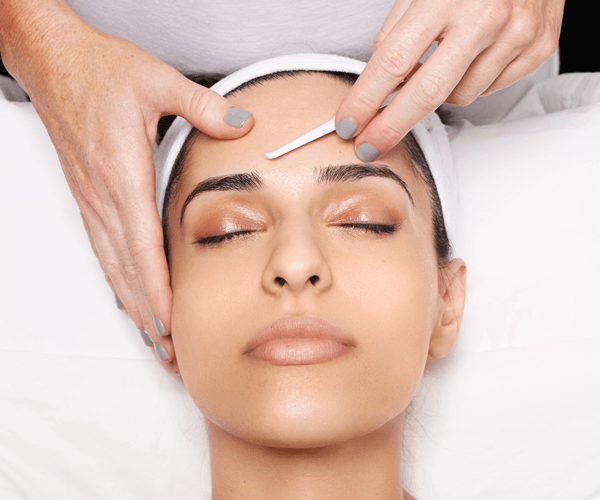 Remove unwanted peach fuzz and dead skin with our new dermaplaning facial. Dermaplaning is a method of exfoliation in which we use a 10 gauge surgical blade to gently remove the layer of dead skin cells and vellus hair on the face. This reveals a smoother, brighter complexion which allows for better product penetration and smoother makeup application. We designed a facial treatment which includes dermaplaning, a delicious enzyme to pick up any leftover debris, followed by a muscle melting neck and shoulder massage.
WHO CAN HAVE DERMAPLANING?
Dermaplaning is recommended for all skin types except those with active breakouts or overly sensitive skin.It is a 'manual' exfoliation process so therefore we are working with the epidermis (very surface layer of skin). This is a great treatment if you are pregnant or nursing and want exfoliation without the use of chemicals.
HOW IS A DERMAPLANING DIFFERENT FROM A PEEL?
Dermaplaning is a manual exfoliation process that does not use acids or enzymes to remove dead skin cells. All of the exfoliation is achieved during your treatment and you will not peel or visibly shed post treatment. Dermaplaning provides a good alternative to peels for those who desire professional grade exfoliation without the downtime. It is also a good alternative to microdermabrasion in that it doesn't stimulate the capillary network and aggravate sensitivity in the skin.
WHAT SHOULD I EXPECT DURING MY SERVICE?
Our dermaplaning facial is a painless treatment that feels like a credit card scaping back and forwards on the skin. The first pass removes vellus hair (peach fuzz) while the second pass removes dead skin build up which can trap dirt and clog pores. We then apply an enzyme exfoliant which munches up and leftover surface debris and finish with an outstanding neck and shoulder massage. Its very relaxing and takes approximately 50 minutes.
WHAT SHOULD I EXPECT AFTER MY SERVICE?
Your skin will immediately feel smooth, soft and more radiant. Skin care products are better able to penetrate the skin following our dermaplaning facial which allows them to work more efficiently. Your makeup will also go on smoother. After the treatment, your skin will have a heightened amount of sensitivity and may appear pink. We recommend using SPF (as you always should!) and avoid the use of overly active products and manual exfoliators.
WILL MY HAIR GROW BACK THICKER AND DARKER?
No, dermaplaning will not alter your natural hair growth, we are cutting the hair at a 45 degree angle and yes it will grow back just like after a shave but is said to lessen with time and repeated treatments. We know that vellus hair cannot be miraculously turned into a terminal hair and colour cannot be altered either. These are myths.
RECOMMENDED COURSE FOR OPTIMAL RESULTS?
Dermaplaning removes 21 days worth of dead skin cells, so it's best to allow the skin to complete its rejuvenation cycle before your next treatment.