Maskne – mask wearing and tips to nurture your skin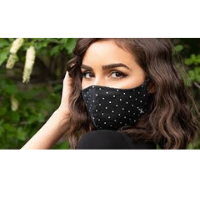 'Maskne' is a new word i've found saying a little bit! Its a mixture of mask and acne.
When casting my mind back to one year ago when I used the word mask – it meant something relaxing, deeply nurturing to the skin and incredibly invigorating for the spirit. When I think of it now – the mere thought makes me cringe – I think sweat building, unable to breathe properly and extreme discomfort!
Wearing a face mask is an important measure in helping to slow the spread of Covid-19 and safe-guard the health of our community. Many people, particularly those with sensitive or congestion prone skin, are noticing some uncomfortable side-effects. These range from breakouts, inflammation and rashes, to flare-ups of conditions such as eczema and rosacea.
Under the mask
To care for our skin properly, we need to understand what's happening to it while we're wearing our face masks throughout the day. The part of our face covered by a mask is very delicate and the nose and mouth area contain bacteria – this area of our face moves ALOT throughout the day, creasing and moving with our facial expressions, while eating, talking and even when we don't realise it!
While masks still allow us to breathe, they create a barrier over the skin which traps moisture in the space between your face and the fabric. This creates a hot, moist environment, allowing sweat and oil to build up, which leads to problems with congestion and excess oil production. This, in turn, clogs pores and triggers breakouts.
Nurture & protect your skin – my top 3 tips 
Face masks have become the new normal for the foreseeable future, but that doesn't mean you need to sacrifice your skin health. It is important to protect it against any damage caused by wearing a face mask as well as to nurture it through this time.
Tip 1 – Routine
A nightly routine will help repair and rejuvenate your skin. It also gives you a chance to develop a calming and mindful self-care routine. I have always been a firm believer in a basic routine being better than nothing at all – a simple cleanser, moisturiser and eye cream are the bare minimum you should be using in any case and specially now with compulsory mask wearing. If you have specific concerns you can customise from here and add things to your routine.
Tip 2 – Double cleanse
When you are cleansing you skin in the shower it should not just be chucking the cleanser on and blasting your face with hot water but rather something you look forward to using nurturing motions and massaging your skin to drain and detox as well as cleanse the debris built up during the day. First cleanse removes built up, but following with a second cleanse nourishes and allows product to penetrate into the skin – preparing it for the next steps in your skincare routine
Tip 3 – Fresh face washer
I love face washers – they can be purchased from kmart for about $1 and are a great tool to really get in there and give you skin a good cleanse. I use a fresh facewasher once a week teamed with my cleanser to give my skin a really good cleanse.
Please don't hesitate to contact Alyse at info@beautybliss.net.au if you have any concerns and need help with your skin and check out the home skin treatment kits available in our online shop – click here to view🙂