Cosmetic Tattoo Treatments

Cosmetic Tattoo treatments

We offer cosmetic tattooing in our boutique skin and beauty salon. We are all about the face, we believe in beautiful skin and making every facial feature as fabulous as it can be.
Eyebrows
Brows are a major part of your face and overall look. They frame your eyes, they peep over the top of sunglasses or glasses, they accentuate your face, they can make or break your beauty. They are important! We use a variety of techniques in our boutique style skin and beauty space to suit various faces, skin tones and textures. Every brow tattoo comes with a consultation to discover the best style, shape and time for you.
Ombre/Powder Brows – Ombré Powder Brows differs from traditional tattooing in that it is surface work—meaning, the application is done on the epidermis layer of the skin. The technique is described by its name, with results being powdery with a faded front and a crisp tail, resembling the look of makeup.
Hybrid Brows – A Hybrid Brow, or fusion/combo brow is a combination of machine brow and microblading. The machine brow implants pigment a little deeper in the skin creating a very soft and powdery look and we include some microblade strokes through the whole brow or at the front.
Cosmetic ink prices with Alyse

Consultation $50 redeemable (This is included in every new eyebrow cosmetic tattoo booking this fee is incase you need an initial consultation before making your decision)
New eyebrow cosmetic tattoo $549
Perfecting session following initial tattoo 6-8 weeks after initial treatment $150
within 3 – 12 months $250
12-18 months $450
Booking fee/deposit $100 paid at the time of booking taken off total on the day
Aftercare – We provide aftercare instructions and balm to assist with healing
Cosmetic Tattoo FAQs
What does the Cosmetic Tattooing process involve?
The cosmetic tattoo procedure involves depositing pigment into the skin, using a small pen-style machine which rapidly inserts small quantities of the appropriate colour pigment progressively in the required area with the expertise of a competent and skilled professional.
Over time the colour may fade due to aging of the tattoo, health or environmental factors, eventually retouching may be required but the colour will remain in the skin indefinitely.
How long does it last?
This question is dependent on many factors, such as:
The pigment used – Darker pigments i.e. black and very dark brown last a lot longer than lighter shades.  A blonde to light brown brow will usually need refreshing every 6 to 8 months
The method used – We use powderfill machine, ombre or combination method for lasting results
The density of pigment –  A treatment that has been reinforced with a second touch up session will usually be longer lasting
After care – regularly tinting over the area, using glycolic acid based products or peels on the area, or regularly exfoliating over the brows can cause them to fade more quickly
 Your health – some people retain pigment extremely well, others do not
Generally, the treatment is considered semi-permanent; though in many cases (especially eyeliner and very dark brows) you will always have some pigment remaining in the skin. A touch-up treatment is recommended 12-24 months
How long does the procedure take?
Normally between 1-3 hours. For eyebrows, the longest part of the appointment is the consultation and mapping of the brow shape!
Does it hurt?
We use numbing cream and gel so you will not feel it.
We recommend ordering the below medical grade Anaesthetic, to ensure you'll be totally comfortable throughout the entire treatment. With this, you'll only feel a minor vibration at the area.
We've made it easy for you to arrange your own anaesthetic pack
COMPLETE THE FOLLOWING LINK TO PURCHASE ANAESTHETIC AND ENTER PASSWORD: kcp2018
https://compoundingpharmacy.com.au/topical-anaesthetic-patient-care-checklist/
Our salon postage address is:
Beauty Bliss Skin Boutique
573 Lygon Street, Princes Hill, VIC, 3054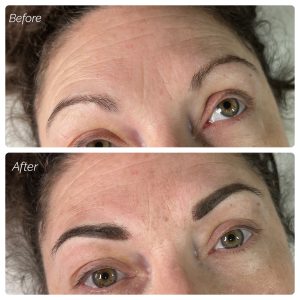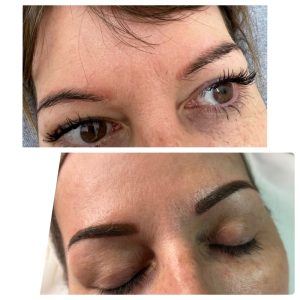 Colour will fade 30-50% after first session. Perfecting session is needed to lock in more pigment