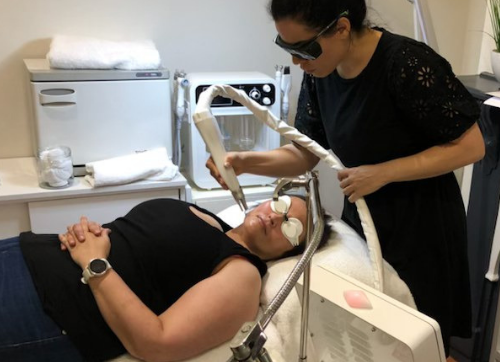 Combat persistent or long-standing skin concerns with laser and heallite LED light therapy using medical-grade cutting-edge technology to work deeply through the layers of skin. Stimulate serious and dramatic results with the power of light!
Heallite II LED Spa facial $125
Light-emitting diodes are released onto the skin's surface to rejuvenate from within. Concentrated energy boosts cellular function, improves collagen and elastin production, helps control acne bacteria, and improves recovery time after deeper skin treatments. We have two frequencies one is blue light for acne and the other yellow for rejuvenation – The light is also brilliant for post-surgery scarring and helping arthritic or body pain.
Dermalux LED $59 (In a package of 6 or10)
Following a Dermalux® treatment, there are some immediate visible changes in the skin but most changes occur naturally over a series of treatments. Dermalux® instantly awakens a tired and dull complexion. After just one treatment skin is hydrated, plump and radiant and redness and irritation is calmed. LED Phototherapy also promotes a feeling of wellbeing, helping to relieve the stresses and strains of everyday life!
Laser Rejuvenation Facial $189
Full facial experience $189
Includes diode laser to reinforce and strengthen collagen, following this we target dark spots and capillaries with qswitch laser and finish with a soothing mask and relaxing hand massage.
Add on laser rejuvenation to any skin treatment
Face $99 | Neck and decolletage $119 | Hands $59 | Spots $50
Erbium Laser Resurfacing $150

Uses an erbium YAG laser to pass over the skin and create tiny lasered epidermal wounds essentially to resurface the skin. Great for scarring, uneven skin texture, wrinkles, thickened skin, and can be used to spot treat as well. **Includes follow-up Healite 5 days post-treatment
Medical-grade carbon is massaged into the skin and laser is used to blast the carbon away and smooth and refine the skin. We then apply a soothing mask and massage stress and tension from your neck and shoulders.