Laser Hair Removal – Laser Clinic in Melbourne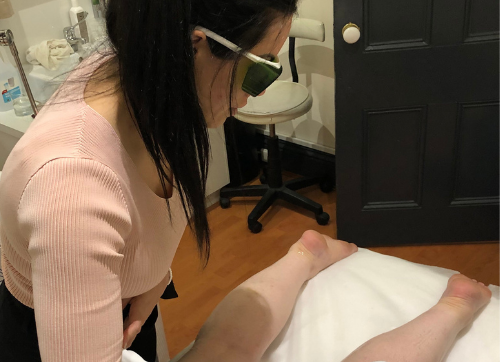 What is laser?
Laser uses wavelengths of light that are directed into the hair follicles. Consequently, the light is absorbed by the pigment in the hair and converted to heat. As a result, this heat disables the cells responsible for growing new hair. At Beauty Bliss, we recommend a series of 6-10 treatments 4-6 weeks apart for best results for our Melbourne laser hair removal clients.
Our machine
Our medical grade Xlase Plus laser hair removal machine has a diode handpiece incorporating alexandrite 760nm and diode 808nm in the same pulse. This is the most advanced laser hair removal in Melbourne. This gives us more power to treat hair and remove it more efficiently. The integrated cooling system cools the skin's surface, allowing maximum power with minimal discomfort.
Laser hair removal in Melbourne
Our beauty therapists are fully qualified with Laser Safety Officer Certificates and have many years of experience in the industry. We offer a complimentary thorough consultation to ensure you are informed and suitable for the treatment. Our clients rave about how painless, unique, and effective our laser service is and we regard our procedures as an unparalleled boutique experience.
What to expect
During the laser hair removal treatment, you may feel a minor prickling sensation as the handpiece moves across the treatment area. Warmth and slight tingling are normal and considered as our clinical endpoint – it means something is happening and we are picking up the hairs! For your comfort we have designed protocols that protect and soothe the skin, making your laser experience virtually pain-free when compared to other lasers. We apply soothing gel to the skin before gently yet effectively gliding the laser across to remove unwanted hair. We then use warm towels to leave the skin clear of debris and silky smooth.
2-4 hours – mild erythema and some heat retention in the skin
1-2 days: mild erythema, mild itchiness, tight/dry sensation
2-3 days: mild skin flaking, dry sensation
3-4 days: slight dryness
4-7 days: full recovery

Note (very few of our clients report these effects but they can happen – if so we just recommend a soothing icepack)
Preparation and Aftercare

Before: Avoid waxing and sunburn to the treatment area for 2 weeks prior. You want to shave the area completely within 24 hours prior to your treatment. The better and cleaner you shave the area, the more effectively the treatment will work. If its the face – please avoid retinol or prescription creams for 7 days prior. You will need to fill out a thorough consultation form even if you have had laser hair removal at another clinic.
After: Please do not exacerbate any heat in the skin. It is essential you understand we have heated the hair follicles to a high heat and they are left in a state of shock for 24 hours after the treatment we recommend you do not swim, use hot showers or saunas, no hot sweaty workouts, and wear loose flowy clothing around.
Laser FAQs
Is laser hair removal permanent?

Laser hair removal has fast become one of the most effective options for permanent hair reduction. No laser clinic can claim 100% hair removal, as some hair will always strive to grow back. Re-growth can be affected by hormones and other biological factors which can vary from person to person. As you continue with your course of treatments we then begin to space them further apart until we get you to 6 and even 12 months. Some people achieve results much faster than others, every journey is unique to the individual
Will laser hair removal get rid of ingrown hairs?
Laser can decrease the chance of experiencing ingrown hairs. When there is no hair in the follicle, there is less chance of an ingrown hair.
Who is suitable for laser hair removal

Laser hair removal achieves the best results for people with fairer skin and darker hair, however, our laser technology and laser preparation products allow us to treat a variety of skin and hair types. Laser hair removal is not suited to blonde, red, grey, or white hair. Your technician will be able to assess your hair during a free consultation.
What if I have PCOS or other hormonal imbalances

Clients with hormonal imbalances or Polycystic Ovarian Syndrome (PCOS) are recommended to consult an Endocrinologist for evaluation and possible medical treatment. These clients tend to have excess hair growth secondary to their medical condition and may find that they require both medical treatment as well as ongoing laser treatment, in order to achieve optimum results.

PRICES:
All prices are gender neutral – we see a body and we treat it with laser hair removal

Please note: Currently we have not been trained in penis/scrotum hair removal
SINGLE SESSIONS – 6 OR MORE – 10 OR MORE
FACE
Lip
$19 – $15 – $13
Chin
$19 – $15 – $13
Sides of Face
$29 – $23 – $20
Full Face
$39 – $31 – $27
UPPER BODY
Neck
$49 – $39 – $34
Shoulders
$49 – $39 – $34
Full Back
$139 – $111 – $97
1/2 Back
$99 – $79 – $69
Full Back & Shoulders
$169 – $135 – $118
Full Arms
$129 – $103 – $90
3/4 Arms
$99 – $79 – $69
1/2 Arms
$79 – $63 – $55
Underarms
$15 – $12 – $10
Hands & Fingers
$29 – $23 – $20
Chest
$99 – $79 – $69
Stomach
$69 – $55 – $48
Chest & Stomach
$139 – $111 – $97
Snail Trail
$29 – $23 – $20
Areola
$15 – $12 – $10
LOWER BODY
Brazilian & Underarms
$59 – $47 – $41
Bikini
$29 – $23 – $20
Brazilian
$49 – $39 – $34
Half Leg
$119 – $95 – $83
Full Leg
$169 – $135 – $118
Feet & Toes
$29 – $23 – $20
PACKAGES
Full Legs, Brazilian & Underarms
$199 – $159 – $139
Full Back, Shoulders & Neck
$179 – $143 – $125
1/2 Leg, Brazilian & Underarm
$169 – $135 – $118
ADD ONS – add the below treatment areas to any other service for only $10.
Underarm – $10
Areola – $10
Hands/Fingers – $10
Feet/Toes – $10
Navel – $10